Amelia Parker had been following the work of Bioregional and its One Planet Living initiative for years, since the development of London's famous BedZED zero-carbon community in 2002.
When she learned that there was another One Planet Community just a few miles away on Bainbridge Island – she was living in Bellevue at the time – she decided to visit and see environmentally friendly development firsthand.

She and her spouse found Grow Community. After speaking with residents, they made their move – to the Juniper building in the new Grove neighborhood.
It's a real turn toward sustainability from her last home, a 1912 Craftsman bungalow. It was beautiful and twice the size of her current home, she says, but trying to modernize and maintain it was exhausting and expensive.
"It's lovely to be in a place where things simply work," Amelia says of Grow Community, " and if they don't, maintenance is on it quickly, where good design minimizes utility bills – large, well-insulated windows make the space feel expansive and reduces the need for lighting – and makes caring for the space simple, so that time can be spent on other things."
At Grow, she has found a simpler lifestyle, one that de-emphasizes the need for a car, with easy connections to local shops and merchants, and even travel hubs like the ferry system and regional rail.
"For the most part, I can walk to anything I need, including the ferry terminal," she says. "My car is coming up on 193,000 miles, and I drive so little that I'm in no hurry to replace it. My spouse occasionally needs to travel to Vancouver for business meetings: before, he would have to drive to Everett to catch a train. Now he takes the ferry across and walks to King Street Station. Not having to deal with traffic does a great deal for our mental health!"
She also finds a real sense of "neighborliness" in a community designed to foster closeness, connection and cooperation.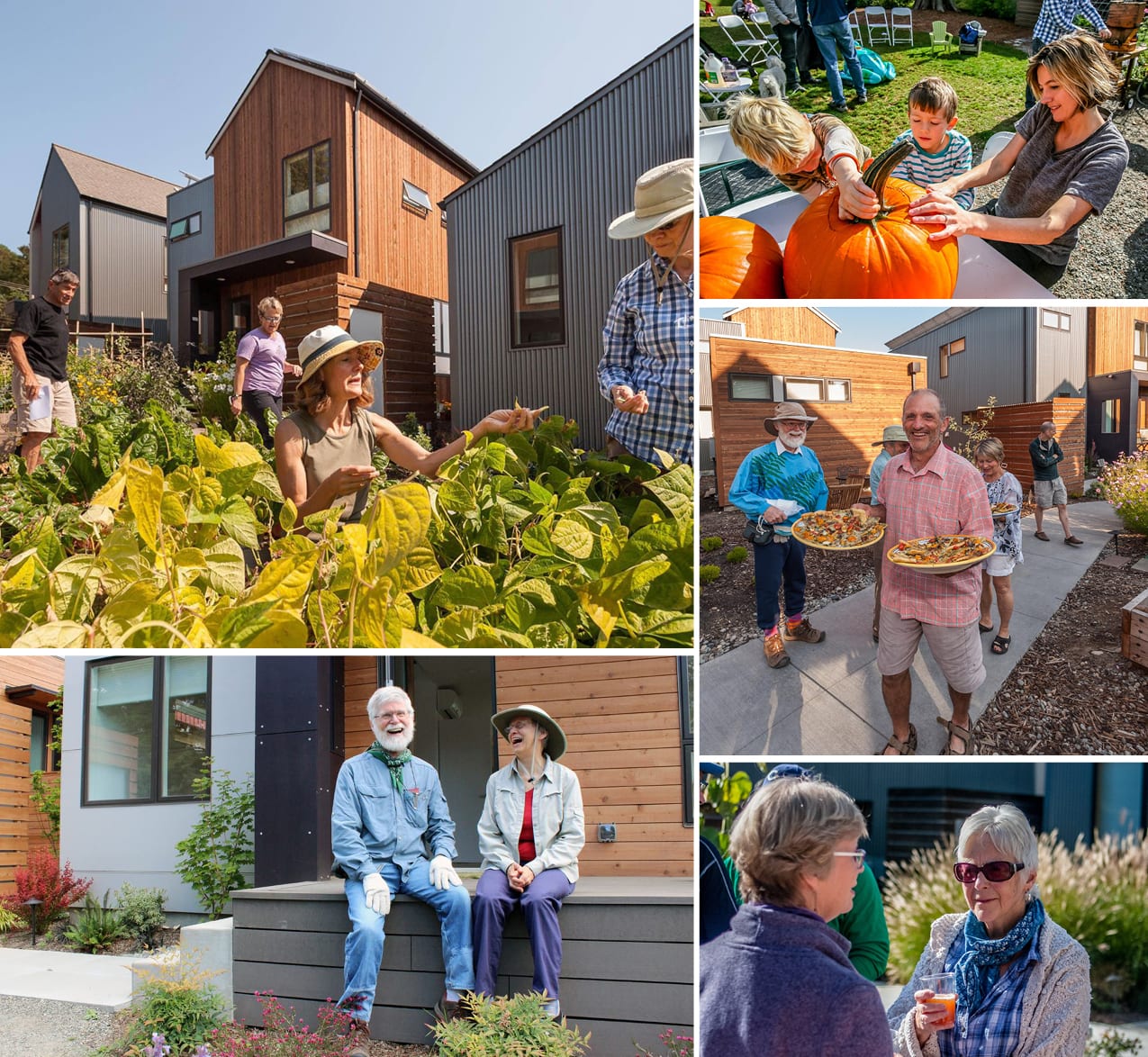 "Last weekend I was out at the observatory with my next-door neighbors, after a thank-you dinner for looking after their cat while they were on holiday," she says. "We will text one another: 'I'm going to Silverdale, do you need anything?' 'I've got too much lettuce: can I bring you some?'"
She adds: "Seeing people from the yoga studio means stopping and chatting in the aisles of the grocery store. I lived in my previous home for 13 years and really didn't have that sort of relationship with my neighbours; I've been here almost 18 months, and it's very different."
Does she recommend Grow Community?
"Yes, absolutely."
https://growbainbridge.com/wp-content/uploads/2017/07/grow-lifestyles-collage1.jpg
1174
1275
Grow Team
https://growbainbridge.com/wp-content/uploads/2018/05/growlogo-300x110.gif
Grow Team
2017-07-13 17:18:33
2017-07-13 17:58:49
A real sense of "neighborliness" in a community designed to foster closeness, connection and cooperation.